#1 INTERNATIONAL BESTSELLER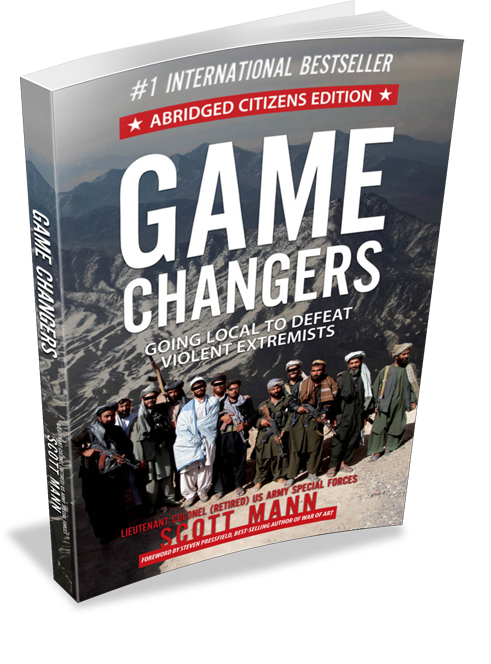 GAME CHANGERS
GOING LOCAL TO DEFEAT VIOLENT EXTREMISTS
— NEW, REVISED EDITION —
The storm gathers as we sleep. Despite vast amounts of blood and treasure expended in the longest war in U.S. history, America and her allies are losing the war against Islamist violent extremists.
Green Beret Scott Mann, an original architect and implementer of the Village Stability methodology, reveals an immediately useful strategic framework to defeat ISIS, al Qa'ida, and even criminal elements here at home.
This isn't theory.
Started by Green Berets in the central highlands of Vietnam and mastered in the dusty villages of Afghanistan, this bottom-up program holds the the key to defeating Islamist violent extremists.
Revised into a streamlined second edition, and informed by over 5,000 interviews, Game Changers isn't just for the military. Featuring a brand new chapter on ISIS in America, this book offers strategic solutions to concerned citizens, security forces, law enforcement, and even corporate leaders.
THIS IS MORE THAN A BOOK. IT IS A MOVEMENT.
We must re-assess our reality of the situation and get past the paradigm of our Western way-of-war. The ultimate weapon to do this is an informed and mobilized citizenry. This movement requires leaders and practitioners from all relevant disciplines and organizations to get serious about what it takes to defeat this enemy.
If we're going to win against violent extremists, it's time to GO LOCAL or GO HOME!
IT'S THE CITIZEN WHO WILL MAKE IT HAPPEN.